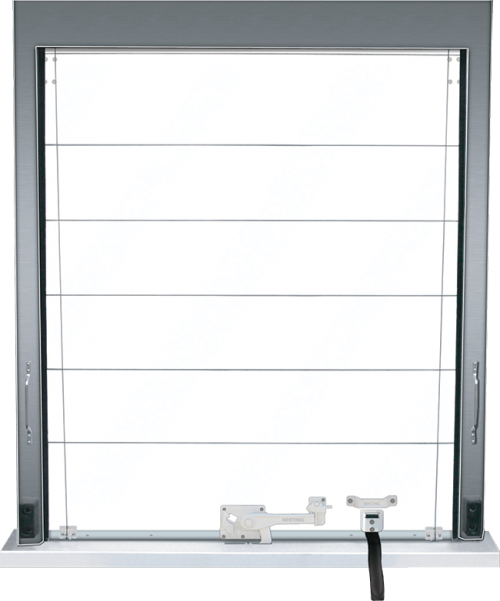 C4
HIGH-STRENGTH, REDUCED MAINTENANCE COSTS, IDEAL FOR GRAPHICS.
Key Features
Double-wall extruded aluminum panels.
The latest European design features composite roller holders, stainless steel anti-lozenge brackets.
Continuous hinge construction eliminates centre hinge rivets to offer a smooth exterior finish ideal for graphics
CommandLIFT compatible
Colors Available
High gloss white powder coat, standard white or custom urethane.
Applications
Speciality
Documentation
Download Digital Brochure
The C4 is WHITING Canada's newest model offering all of the latest technology from our European partners. The heart of the C4 model is a full-length double-wall aluminum extrusion. This panel is durable and 100% recyclable. The box lathe design coupled with a continuous hinge allows us to eliminate the vast majority of hardware fasteners creating a perfectly clean exterior surface for graphics application. As one would expect the interior hardware is also cutting edge. Standard powder-coated stainless steel anti-lozenge brackets prevent lateral panel shift. The roller holder is also manufactured from corrosion-proof Zytel®. The Zytel® composite roller holder drastically reduces interior noise and rattling from door rollers. The top closure bracket incorporates an innovative design that limits the top panel backbend to maximize interior space. The use of standard 2" tracks, 2" rollers, a 2376 balancer, and standard Whiting exterior hardware mean that you will never be in the position of not being able to find parts or being charged exorbitant prices for proprietary components. Available with a highly durable gloss white powder coat finish. Simply put the C4 is the most advanced roll-up door currently offered by WHITING Canada.