Swing Doors
WHITING Canada manufactures the highest quality ply metal trailer swing doors available in the transportation industry. Using top-grade and heavy-gauge materials, our SEA-LOK® swing doors are designed to withstand the harshest environments faced by the trucking and shipping industries. Each SEA-LOK door undergoes rigorous testing and quality inspections to achieve the premium quality standard that WHITING Canada is known for. Our SEA-LOK doors can be customized with various panel construction and gasket options to suit a variety of applications. Our friendly and knowledgeable staff are available to advise on the best solution for your needs, as well as, any other inquiry you may have.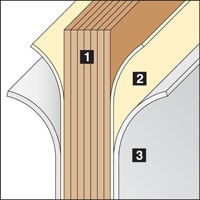 Plymetal Swing Door Panels
Plymetal swing door panels are an excellent choice for most trailer/van body door applications. There are numerous panel thickness and facing options, all of which provide strength and durability.
1 The inner core is made from exterior grade Douglas Fir plywood as standard. Oriented strand board (OSB) and other wood-based cores are available to suit your requirements; for example, where a lightweight core is required.
2 The patented urethane-type adhesive we use provides a superior bond and meets all transportation specifications.
3 We offer a wide range of panel faces, including:
Galvan® High- Tensile Steel (pre-painted or mill finish) for an extremely durable facing that can withstand an immense amount of force before breaking
Galvanized Steel (pre-painted or mill finish) for extra protection against corrosion and rusting, ideal for shipping or other water-related applications
Aluminum (pre-painted or mill finish) 3003-14, 3105-H14, 5052-H34 for a lightweight yet puncture-resistant facing
Stainless Steel (SBA or mill) 304-2B for high corrosion and rust resistance where water is not a concern
1/2" Composite Panels (polyethylene core with white steel facing), extremely durable and are recommended for applications where weight is not a concern.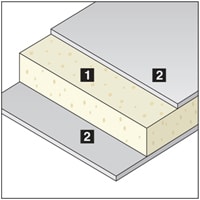 Plate-LOK Doors
Plate-LOK doors are the best choice for applications that are temperature sensitive and require insulation, such as foodstuffs or beverages. The galvanized steel exterior gives a tough and puncture-resistant finish, while the white-baked polyester finish is an ideal surface for graphics and decals. Other colours are available for quantity production runs.
1 The inner structural core is created from a high-density foamed polyethylene (PE). The thermal bonding process we use adheres the core to the external skins and is the industry standard for transportation plate sidewall and door products.
2 The panel faces are 80,000-psi yield galvanized steel with a standard white-baked polyester finish.