Discover The Differences Between Swing Doors & Roll-Up Doors
It is widely known that Whiting Door Manufacturing launched the first practical roll-up door for trucks and trailers in 1953. It is not as well known that Whiting's Met L Wood laminates division is one of the largest suppliers of swing doors in the truck and trailer industry.
These two operations, along with Whiting's global network of licensees, make Whiting the largest manufacturer of truck and trailer doors in the world.
This blog post will quickly cover the differences between swing doors and roll-up doors.
Main Differences Between Swing Doors and Roll-up Doors
Swing Doors
Swing doors or "barn" doors are ubiquitous in the trailer industry. They are designed to maximize the net cargo area. If you are looking for the largest possible opening for your truck body or trailer, then swing doors may be for you. They can be produced in a variety of custom sizes as well as a wide array of materials. The industry standard remains a plywood core combined with a galvanneal interior designed to withstand significant abuse along with a high gloss white aluminum exterior face.
Beyond this combination, we can offer additional cores, including high-density polyethylene (HDPE or "Plate") and polypropylene honeycomb. Upgraded skins can include stainless steel. Based on minimum order volumes, custom colors are also available. Met L Wood also produces side access swing doors in a variety of configurations.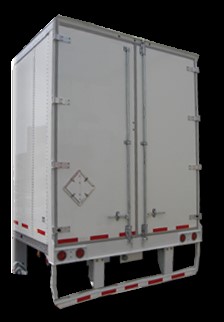 Although maximum opening clearance is a significant feature, swing doors also carry several drawbacks. When operating in a loading dock environment, swing doors must be opened before the trailer is at the dock and then closed after clearing the dock. This results in drivers or distribution center staff walking around often busy yards with all manner of heavy equipment in motion. If trailers are lined up and parked in tight quarters, doors may not be able to swing fully open.
Swing doors effectively become sails when opening and closing in windy conditions, which can result in injury to the operator, product damage, or both. In curbside delivery applications, swing doors may not leave sufficient space to open and close in tight urban environments. If operating with a ramp or gate during multiple runs into a business, swing doors take longer to operate, resulting in lost efficiency.
Roll-Up Doors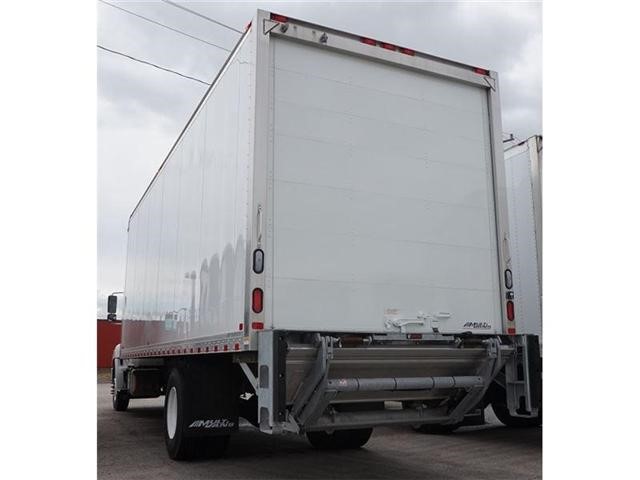 In the early 1950s, Whiting introduced the first practical roll-up door to address the shortcomings of swing doors. Although the rear frame required to house a roll-up door assembly results in slightly reduced opening clearance, the operational advantages are significant. Doors may be operated while securely parked at a loading dock. During curbside deliveries, doors may be quickly opened and closed, increasing efficiency.
Easier access and securement during multiple drop deliveries increase the likelihood that staff will properly follow procedures. Roll-up doors by their design, allow for the use of an expanded array of security features. For many fleets, brand management is an important aspect of a truck or trailer purchase. Roll-up doors are easily painted in custom colors to support marketing activities.
In short, roll-up doors are safer, more efficient, more secure, and better adapted to marketing opportunities. Future blogs will cover the dizzying variety of roll-up door systems which are now available, along with options and a discussion on how to develop a specification that is best suited for a particular user.
Can I Convert My Truck or Trailer From Swing Doors To a Roll-up Door?
Absolutely! Whiting received enough requests to perform this changeover that we developed a rear frame conversion kit. The kit is designed with two posts which include an angled interior freight guide to provide elevated protection against damage from material handling equipment. Also included are two options for the header beam: 7" or 9" depending on the model of roll-up door to be used for the conversion.
Got a question? Contact our team of experts at ISG for more information, or view our door options online.