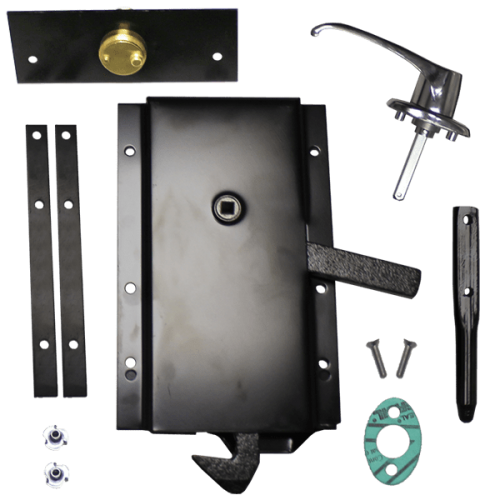 #1415.1 Slam Lock With Inside Release Applications Ideal for easily increasing security via the slam lock design, for valuable cargo.


The Slam Lock has been designed for use with the DryFREIGHT™ and HingedTRUSS II™ roll-up door models, providing increased cargo security via an easy to use slam design. The slam design actuates when the roll-up door is closed, providing peace of mind to fleet managers that the contents have been adequately secured. In addition, this essential part helps to keep your roll-up door closed in transit, ensuring that the lock doesn't vibrate loose and disengage. This keeps cargo safe from loss, debris, and damage from the elements. A secured door also helps protect the door and components from damage and wear by keeping parts immobile during transit, reducing maintenance and downtime.
The inside release also allows the door to be opened from within the compartment—a useful addition where staff may need access before opening the roll-up door, and increasing efficiency by removing the need to exit the compartment and open the door from the exterior.
When ordered as an option with new door orders, a non-locking L-handle is supplied which allows quick and easy access for staff. The Slam Lock can be supplied as a parts-only option to allow the reuse of existing keys, or alternatively, a key cylinder can be supplied with two keys as standard. The combination of increased security, ease of use, and reduced maintenance make this slam lock a cost-effective addition to your roll-up door.
If ordered as a parts option, only the #1415.1 Slam Lock w/Best Cylinder less core is supplied. To order a core and keys please specify #62-66000.