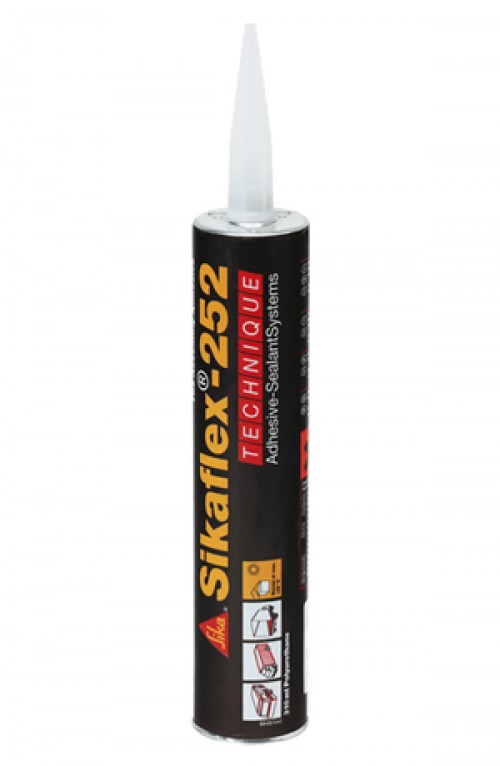 Sikaflex® 252 - Knife Grade Adhesive


Sikaflex-252 is a 1-component, moisture-cured, polyurethane adhesive with extremely high thixotropy and high strength. Sikaflex-252 is particularly suited to bonding applications in the manufacture of trucks, trailers, and equipment.
Use
Suitable for bonding of floors (plywood, blandex, wood, metal) to subfloors or metallic frames; all exterior or interior panels, walls, sheets to corners or tubular frames; FRP roofs (vans, cabins); trim mouldings and all kinds of styling elements. Can also be used for sealing, especially for large-dimension joints. Seek manufacturer's advice before using on plastics that are prone to stress cracking.
Characteristics and Advantages
· Bonds and seals at the same time
· One part formulation
· Replaces rivets and mechanical fasteners
· Very high thixotropy for good gap filling properties
· Adhesion to a wide range of substrates
· Short tack-free and curing time
· Non-staining curing process
· Initial load-bearing capacity
· Sandable and paintable
· Increases torsional stiffness of the final assembly
· Shock/impact resistant. Vibration and sound damping
· Excellent weather and water resistance
· USDA approved for incidental food contact
Colour
White, Black
Packaging
Cartridge: 300 mL
Sausage: 600 mL
| | |
| --- | --- |
| Black - 300 mL | 10-11544-51-68TW |
| White - 300 mL | 10-11544-87-68TW |
| Black - 600 mL | 10-11556-51-68 |
| White - 600 mL | 10-11556-87-68 |