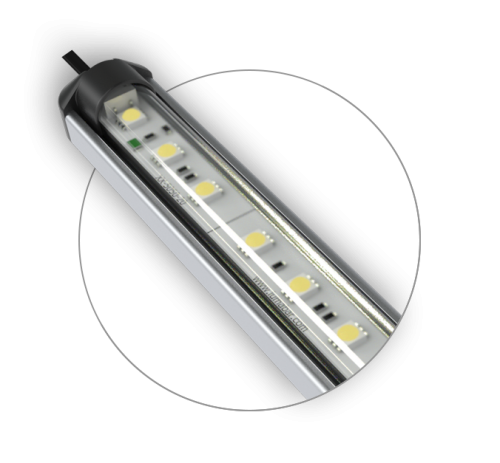 Stand Alone Colors Available Clear White, Red, Blue, Red/White Combination, Blue/White Combination Applications Interior lighting, compartment lighting, van/trailer box interior, anywhere additional illumination is required (red or blue), under cabinet lights for kitchens


| | | | | | |
| --- | --- | --- | --- | --- | --- |
| OVERALL LENGTH | RED | WHITE | BLUE | RED / WHITE COMBO | BLUE / WHITE COMBO |
| 11 1/8" | AY-9250-12 | AY-9220-12 | AY-9270-12 | AY-9280-12 | AY-9285-12 |
| 21 5/16" | AY-9250-22 | AY-9220-22 | AY-9270-22 | AY-9280-22 | AY-9285-22 |
| 31 7/16" | AY-9250-32 | AY-9220-32 | AY-9270-32 | AY-9280-32 | AY-9285-32 |
| 41 5/8" | AY-9250-42 | AY-9220-42 | AY-9270-42 | AY-9280-42 | AY-9285-42 |
| 51 3/4" | AY-9250-52 | AY-9220-52 | AY-9270-52 | AY-9280-52 | AY-9285-52 |
| 61 15/16" | AY-9250-62 | AY-9220-62 | AY-9270-62 | AY-9280-62 | AY-9285-62 |
| 72 1/16" | AY-9250-72 | AY-9220-72 | AY-9270-72 | AY-9280-72 | AY-9285-72 |
The Stand Alone is the Luma Bar® product that revolutionized compartment lighting. The compact, low-profile design creates an unobtrusive, space-saving light that can be mounted just about anywhere that lighting is required. Incorporating the Luma Bar® patented variable aiming system, additional lighting can be conveniently provided wherever you need it most.
Supplied with a full-length aluminum mounting extrusion and encased in a high-impact polycarbonate lens, this waterproof, IP67 rated, LED light is a durable product that can provide many years of use, even in the most demanding of situations. Standard lengths are available, as well as custom lengths, to suit any interior application. In addition to the standard clear white lens, red and blue lenses are also available. Alternatively, the Standalone can be ordered as a combination of red and white or blue and white lenses. Also included is the Luma Bar® current limiting device, which will shut off in the event of an electrical surge, and then resume once normal operating conditions are met. Both 12v and 24v models are available.
Uses
Ideal for truck compartment lighting, vehicle interiors, toolboxes, emergency vehicle command stations, under-cabinet kitchen lighting, or any interior situation where additional lighting is required. Available as part of an OEM installation or as a retrofit.