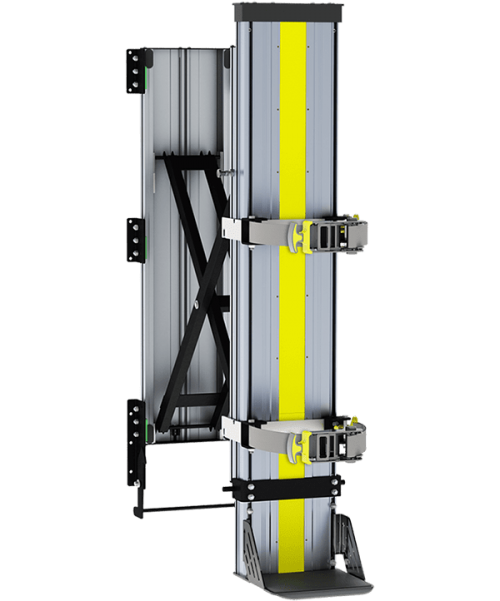 ArtLIFT FLC Applications Moving of oxygen cylinders, Industrial gas cylinders
Specially designed for the emergency services industry, the ArtLIFT FLC electric loading system helps your staff move heavy cylinders in and out of ambulances, fire apparatus, service trucks, and other specialty vehicles. In addition to improving efficiency by lifting loads quickly, a heavy cylinder lift will help ensure that risks to the health of your employees are minimized by removing unnecessary lifting. The sleek, rear-mount design maximizes the available space in vehicle compartments. The ArtLIFT FLC can accommodate nearly any lifting stroke to suit a variety of floor heights and vehicles and offers a 220lb (100kg) lifting capacity.
The ArtLIFT FLC can be deployed in seconds while offering a smooth, quiet, and controlled lifting action to protect cylinders during lifting. In addition to the space saved by using an electric loading system over bulky hydraulics or pneumatics, electric systems are more energy-efficient, require less maintenance, and offer increased safety as there are no fluids that can create a potential fire hazard.
The ArtLIFT FLC has been designed with safety in mind. Built-in sensors prevent operation unless it is fully deployed. The free-running system offers drive motor protection, to ensure reliable operation time and time again. For emergency applications, the ArtLIFT FLC is third-party certified to comply with the NTEA Ambulance Manufacturers Division Standard 003 for oxygen tank retention systems. The increased efficiency and productivity combined with reduced staff injuries makes the ArtLIFT a powerful addition to your fleet.