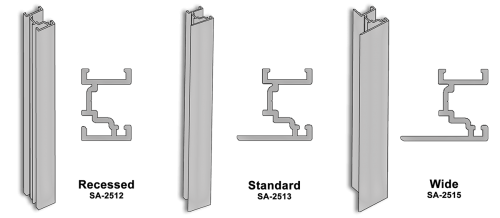 Side Frames


AMDOR currently offers three versions of our side frames. Our standard or conventional side frames is designed to frame the opening while providing ½" of exterior body wrap to reduce water ingression while providing a solid registration point.
We also offer a wide flange exterior side frame which provides 0.75" of exterior body wrap. This is particularly useful in applications where you have two adjacent doors where the side frames may be butted up against each other without the need to paint, finish, or apply graphics to a vertical sliver of space between neighboring compartments.
Our third standard is our recessed frame is identical except that this exterior flange has been removed. This allows the side frames to be recessed inward from the exterior of the body structure or allows for applications where exterior cladding needs to tuck up next to the side frames versus underneath.
Over the years we have also partnered with a number of builders to produce proprietary side frames to suit specific build characteristics. Following an engineering review and sign off process AMDOR will run and stock a custom side frame which is proprietary to your firm. AMDOR also offers a variety of side frame preparations to decrease installation time and improve field serviceability. All AMDOR side frames include standard pre-punched slotted holes. We also offer a variety of additional options including track bottom miters to clear body weld beads, notching for step down compartments and pre-installation of strikers. Additional info on each of these options is included on this site. Contact your local Territory Manager to dial in your specific custom requirements.
Product Numbers:
SA-2512: Recessed
SA-2513: Standard
SA-2515: Wide